Aaron and I kicked off the summer with a road trip to Washington DC with one of our dear friends, Sam.
We all grew up in California, so it's crazy to us that traveling through several states on the East coast takes about the same time as a road trip from San Francisco to San Diego!
A bit about our trio and how we travel: I made a Google doc (that no one else even read… rude) prior to the trip with all the recommendations I received on Instagram. Restaurants, hotels, museums, etc. I then looked on a map and categorized everything by location. But that's typically where my type-A-ness ends. I just like knowing that if we get hungry or want to try something new, I can whip out my phone and have a list of suggestions. Other than that, having a regimented schedule kind of ruins the fun.
We had absolutely no agenda for the trip (other than our AirBnbs and a few scheduled tours). However, that can mean we miss out. We're okay with that. But if you're looking for a TOP 10 MUST-SEE SPOTS AND RESTAURANTS blog post, this is not the place for you, but I hope you still enjoy! 🙂
Sidenote: You can save $40 off your first AirBnB stay with this link. It works for any new account (basically, any unused phone number). Aaron had never used his phone number to create an account, so we made one for him, booked through that, and saved $40!
I've been to DC twice before – once for my 8th grade school trip and again my junior year of high school for President Obama's inauguration. That was one of the most incredible moments of my life, and I will absolutely cherish those memories forever. He is such a great person, and I'm really grateful that I got to witness that historic event!
Even though it wasn't my first visit, I was so excited to explore the city and museums as an adult. Hopefully I've matured a bit and learned a thing or two in the meantime. 🙂
Road Trip To Washington DC: Day One
Lexington, KY to Charlottesville, VA
I've always wanted to visit Charlottesville and UVA. When I was in high school, I went through my obligatory East Coast college fantasy phase and became obsessed with the whole town.
We left Lexington in the afternoon, and it took us about 7 hours with stops. Since we arrived past midnight, it naturally made sense to stay up and watch the latest episode of The Bachelorette. (They forced me. Nothing surpasses my love for sleep. Not even Tyler C.).
Road Trip Day Two
Charlottesville, VA to Alexandria, VA
A morning of exploring! We started off at Snowing in Space, a Nitro Cold Brew coffee shop that made us feel like we'd never had caffeine before because 1. That stuff is INTENSE and 2. I only know how to order lattes. It was a cool spot with a retro-arcade vibe so we hung out there for a bit before grabbing donuts and hashbrowns at Luther Burger (you're really going to start noticing a nutritional theme here very soon).
Then we walked around downtown and UVA, which were both absolutely gorgeous and led us down a Wikipedia rabbit hole researching collegiate secret societies for the rest of the day. Case in point: Z.
Amazingly enough, it only rained during the time we were driving from Charlottesville to Alexandria, AND we got to watch T-Swift's livestream about her new album in the car. We all LOVED Alexandria. It was mellow the night we were there, and we walked up and down the main road until we stumbled upon Pizzeria Paradiso (Old Town location) for — you guessed it — pizza and wine. We were running off sugar and cheese for the rest of the trip.
Before checking into our AirBnb, we visited Georgetown and walked for miles until we got to the university. It was absolutely stunning and just as we arrived at the front steps, it started pouring. Naturally, we assumed that was our invitation to enter, so we wandered around in there pretending we were students until the weather cleared up. Going to take this moment to address the fact that literally any stranger off the street can enter most universities, and we are all okay with that I guess?!
Our AirBnb was in Capitol Hill, so we headed over there, not missing a moment to blast "My Date With The President's Daughter" as we drove down Pennsylvania Ave.
Road Trip Day Three
Washington DC
We spent all of day three walking the National Mall and stopping in museums. We spent the most time in the Museum of American History, which was so cool, but we also visited the Holocaust Museum and the Air & Space Museum before walking down to the WWII Memorial and Lincoln Memorial.
Highlight of the day was seeing Dorothy's red slippers at the Museum of American History for a special pop-up! I watched that movie so many times growing up, and it was a nice break after so many heartbreaking exhibits!
We ended the day of exploring at Ford's Theater because Aaron is a Lincoln nerd, but I will say it was the only museum we had to pay for and the least impressive one we visited. Still, if you love Lincoln, you have to go!
For lunch we had street food by the Mall and for dinner we had pizza again (WE LOVE PIZZA) and Pitango Gelato for dessert!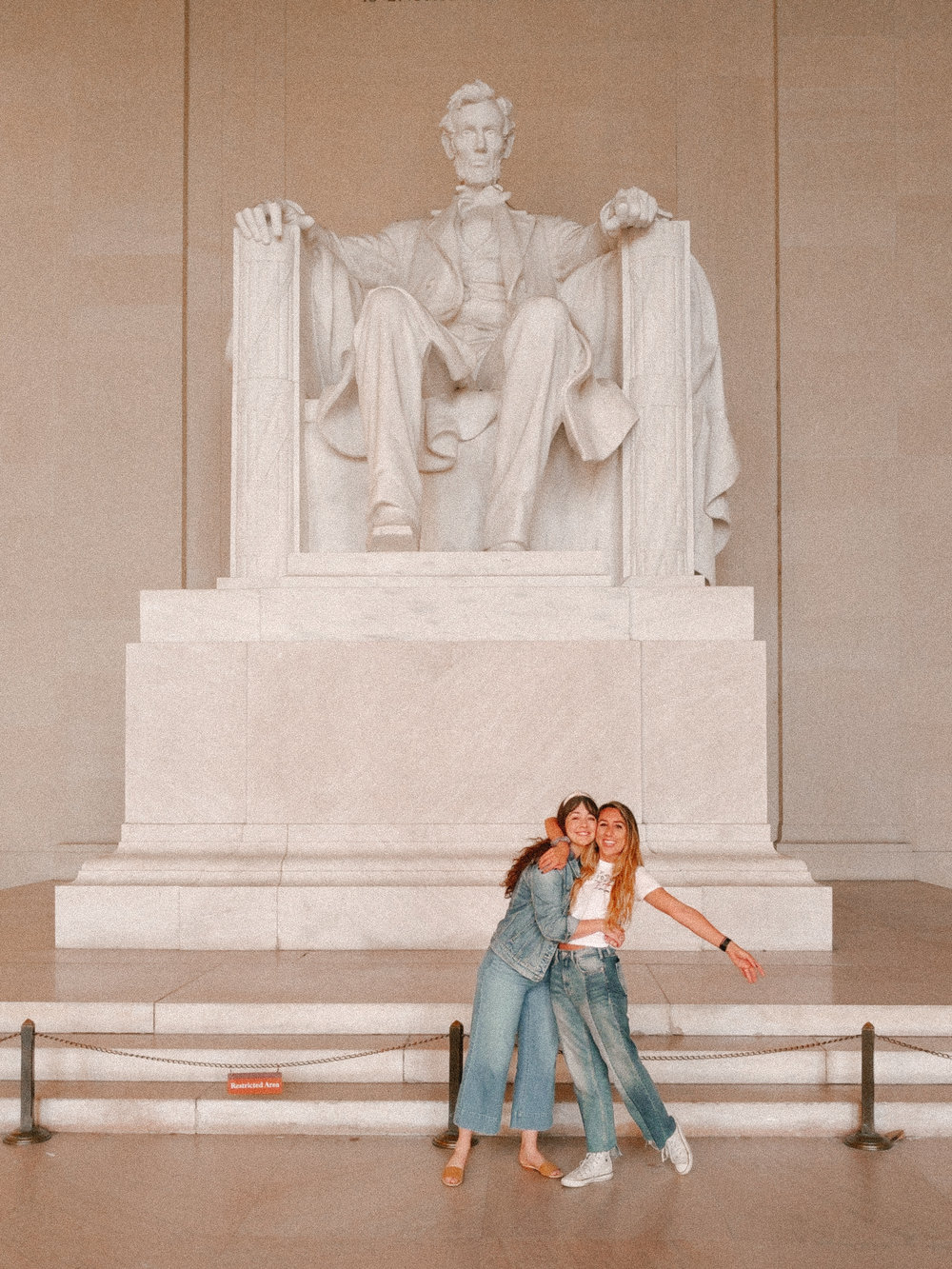 Road Trip Day Four
Washington DC to Maryland… then HOME!
This was my FAVORITE moment of the trip — Sunrise at the Lincoln memorial! I'm so glad that we got up early. It was lovely to be in such a beautiful place without the crowds. Trust me, it was a REALLY good sunrise. Otherwise there's no way I would have been okay with getting out of bed! 🙂
Then we did a bit of wandering, eventually making our way to Bullfrog Bagels for a delicious breakfast before visiting the Supreme Court (just the outside), Library of Congress, and finally, our Capitol tour. It is crazy to me that these huge, gorgeous, historical buildings are all right next to each other! Unbelievable!
After a morning full of history, we enjoyed an afternoon full of electric scootering (if you want a free ride to see for yourself, use my code RHJDH7P on Lime!). It was SO MUCH FUN. I definitely see how annoying they would be if they were in your city, but they're not in mine!!
That night we stayed with some friends in Maryland, and day five was a very long and exhausting day driving! Overall, it was such a lovely time with some of my favorite people, and I absolutely recommend visiting if you haven't already!
Our road trip to Washington DC ended with a very long drive back to Kentucky. But it was worth it!
I wore this amazing Son De Flor dress, which I reviewed HERE.
Have you ever done a road trip to Washington DC? Do you have any plans to visit DC in the future? Have you been recently? Let me know in the comments!